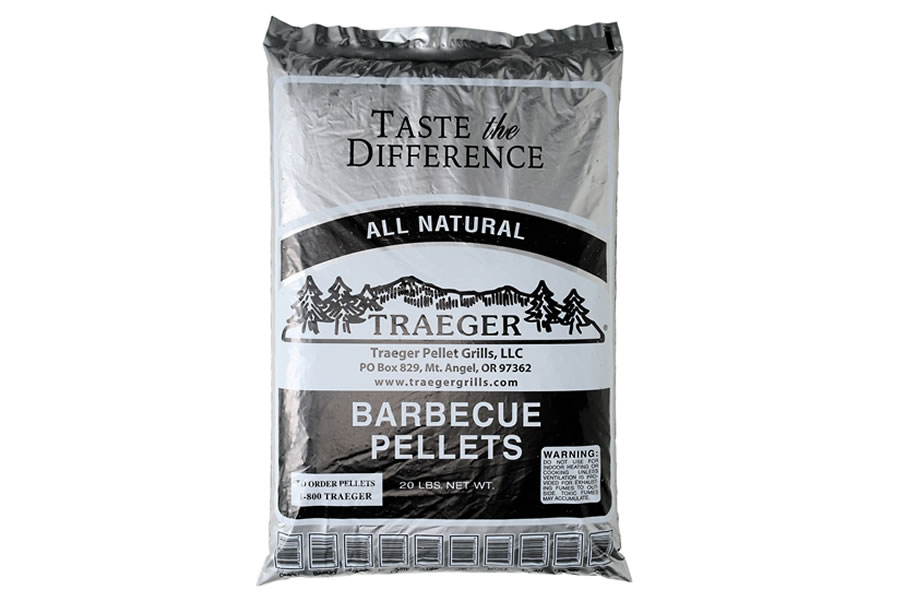 Traeger All-Natural Wood Pellets

Traeger Wood Pellets are the choice of serious BBQ'ers and Traeger smoker fans. These clean-burning, environmentally-safe pellets are made from 100% natural wood and generate about 8500 BTU's per pound with very little ash. Traeger selects only the finest hardwoods from across the country to make their pellets. Available in Apple, Cherry, Hickory and Onion, each in a 20 lb bag.
Onward Grill Pro Hickory Chips

Hickory wood chips add rich, smoky flavor to all sorts of meat including beef and pork, burgers, and poultry. This resealable bag contains 170 cubic inches of natural hickory wood chips usable with your grill and in your smoker for old-fashioned smoked BBQ flavor.
Onward Grill Pro Mesquite Chips

Mesquite wood is the secret to that big, bold BBQ flavor of the American Southwest. These natural mesquite chips capture that unmistakable flavor when you use them on your grill or in your smoker. Because of its strong flavor, mesquite is best for beef, hamburgers, pork, lamb, venison and other hearty meats. The resealable bag contains 170 cubic inches of wood chips.
Onward Grill Pro Whiskey Wood Chips

This 2-lb. bag is full of wood chips made from genuine oak whiskey barrels. The whiskey-infused wood imparts hints of rich caramel and smooth vanilla as well as deep wood notes from the oak, for incomparable flavor when smoking or grilling all sorts of meat (pork, beef, lamb, burgers, venison & other game) and poultry (chicken, turkey, duck, goose, game birds).
Onward Grill Pro Cherry Wood Chips

Cherry wood chips add delightfully bright fruit flavor notes and mellow smokiness that will complement chicken and other poultry as well as pork, beef and other meats. Cherry-smoked ribs are especially good! Each resealable bag contains 170 cubic inches of cherry wood chips which can be used on your grill as well as in your smoker.
Onward Grill Pro Apple Wood Chips

Apple wood is prized by master BBQ smokers for its mildly smoky, subtly fruity flavor that pairs well with more delicate foods like fish and poultry, while also enhancing pork (think applewood bacon!), lamb and other meats. Each resealable bag contains 170 cubic inches of apple wood chips which can be used on your grill as well as in your smoker.
Onward Grill Pro Alder Wood Chips

Little known outside of the Pacific Northwest, alder wood add beautifully light and mellow smoked flavor to salmon and other fish as well as poultry, lamb and pork. These alder wood chips come in a resealable bag holding 170 cubic inches, and you can use them in your smoker and grill.
Jack Daniel's 1749 Wood Smoking Chips

Created from authentic Jack Daniel's® oak whiskey barrels, these wood chips are suitable for charcoal and gas grills as well as smokers. Each bag holds 210 cubic inches of whiskey-saturated oak chips that'll impart smooth, rich notes of caramel, vanilla and oak wood to meats, poultry, seafood and vegetables. The aroma is mouthwatering and the flavor incomparable.
BBQr's Delights Smoking Pellets
Do you love the flavor of smoked food but don't have a smoker? Are you craving smokiness in your meat, seafood or poultry but don't have the time to use your smoker? Use BBQr's Delight Smoking Pellets for real smoke flavor without using a smoker! Made of all natural wood compressed into pellets, simply add 1/2 handful to your charcoal in layers, or toss in the valleys of your GrillGrates, for instant smoke. You get FOUR 1-lb bags in the following flavors: Jack Daniels, Hickory, Mesquite, and Apple.
Gas Grill Smoker Boxes
Achieve real smoky flavor with your gas grill when you use this smoker box! With a unique V-shape to fit under the grate and between the flame deflector bars of most gas grills, these grill boxes are crafted from durable, rust-resistant stainless steel and are backed by an industry best 5-year guarantee. Simply soak wood chips in your liquid of choice, drain and place in the smoker box, place the box in your gas grill and grill as usual, then sit back and enjoy the richly flavored, smoked results! The long smoker box measures 5"x6¼"x2, and short smoker boxes measuring 5"x6¼"x2" are also available.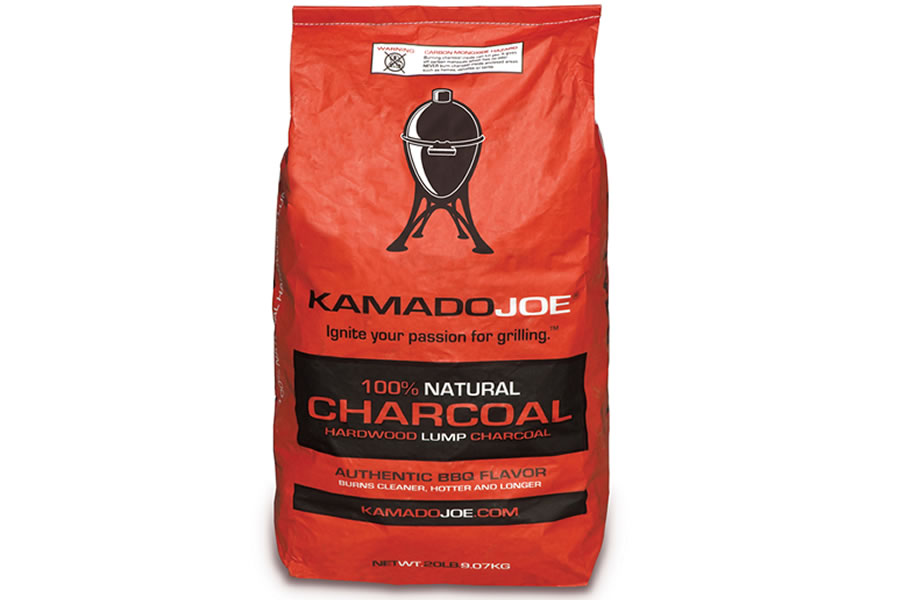 Kamado Joe Natural Lump Charcoal

This is the charcoal you need for your Kamado Joe Grill. Made from 100% natural blend of hardwood trees like oak, hickory and maple without any chemical additives or fillers, it will let the pure flavors of your food shine through while adding that unmistakably rich, earthy smokiness only available from real lump charcoal. Burns cleaner, hotter and longer, meaning a lower cost per use. Comes in a 20 lb bag.
Smokehouse Hickory Chips & Chunks

This bag contains 2 lbs of a special blend of Ozark hickory and Pacific Northwest alder wood to give your food a rich and zesty barbecue-smoked flavor. These wood chips are particularly good for making smoked pork or other hearty meats, and also for beef or venison jerky.
Smokehouse Cherry Wood Chips & Chunks

Pacific Northwest cherry wood is blended with just a touch of alder wood for layers of smooth, mellow smokiness with hints of bright fruit overtones. The rich, complex flavors imparted by these wood chips makes them ideal for smoking pork, beef, venison and other dark meats including duck, goose and wild game. Comes in a 2 lb. bag.
Smokehouse Apple Wood Chips & Chunks

Apple wood from Washington state plus a little bit of mild alder wood account for the subtly sweet and gently smoky flavor you'll get when you use these wood chips. Perfect for chicken, turkey and other poultry as well as with pork, these are also the wood chips to use if you want to make your own applewood smoked bacon. Comes in a 2 lb. bag.
Smokehouse Alder Wood Chips & Chunks

This 2-lb. bag contains 100% pure Pacific Northwest alder wood that's been aged and kiln-dried for a smooth, clean flavor. Rich without getting harsh, alder wood chips are great for smoking salmon and other fish while also enhancing poultry because it complements even delicate food without overpowering or masking its flavor.
Smokehouse Mesquite Chips & Chunks

Mesquite is preferred for smoking in the Southwest, but its strong flavor can overwhelm if not used with some care. This 2-lb bag of wood chips lets even the novice smoker achieve mouthwatering flavor by combining Texas mesquite wood with a bit of Pacific Northwest alder wood for a flavor that's hearty but with a smooth finish. Ideal for steaks, burgers and other cuts of beef.
Frontier All-Natural Hickory Smokin' Chips

Hickory is the most popular hardwood for BBQ smoking, and this bag comes with 180 cubic inches of natural hickory chips to impart robust smokiness to grilled meats, poultry and vegetables. Use these hickory smoking chips on gas or charcoal grills whenever you crave that classic American barbecue flavor.
Frontier All-Natural Mesquite Smokin' Chips

If you want to experience the big, bold flavor of Texas BBQ at home, you need mesquite wood for your smoker and grill. Its rich, deep smokiness is essential to authentic southwestern and Mexican dishes calling for smoked meats, and it's superb for brisket, ribs (especially beef) and burgers. These mesquite chips are good for both charcoal and gas grills, and each bag holds 180 cubic inches of wood chips.
Grilling Planks 4-pack: Alder, Cedar, Hickory, Maple
Grilling planks add juiciness and layers of flavor to grilled foods while letting you grill with less fat, oil or liquids. This 4-pack from Nature's Cuisine comes with four 14" x 5.5" grilling planks (1 of each flavor) of Cedar (for sweet spicy flavor with a mild smoky edge), Alder (for robust smoke flavor with light vanilla notes), Maple (for sweet buttery flavor with gentle smokiness), and Hickory (for a rich smoky flavor with a mild bacon-like notes) grilling planks. Includes instructions and recipes, too.
Nature's Cuisine Cedar Grilling Planks
Cedar planks impart a sweetly spicy and lightly smoky flavor to grilled salmon and other fish as well as chicken, vegetables and burgers. You get two 100% natural Canadian cedar planks (5 3/4" x 15" x 3/4" each) in this 2-pack. Plank grilling is popular in the Pacific Northwest and lets you grill using less oil or liquids for incomparably juicy and flavorful results.
Smokehouse Alder Grilling Planks

Alder wood adds a delicate smoky flavor to food with a subtly sweet quality. Its mellow smokiness pairs beautifully with poultry, fish, pork and vegetables. This Smokehouse pack comes with three grilling planks (15" x 5" each) made of 100% natural Pacific Northwest Alder. Use them on your charcoal or gas grill for perfectly grilled food with layers of mouthwatering flavor, succulent juiciness and less fat.